FAQ - Find out the answers to your most frequently asked questions
Global questions
    How long does it take to ship my order?

When parts are in stock, orders are generally dispatched within 48 hours, a little longer in case of high demand.

If the part is not available, the shipping time varies depending on our supplier, if this is the case, please contact us for more information.
    How long will it take to receive my order?

In France: the delivery time after the order has been shipped is approximately 48 to 72 hours.

Abroad: the delivery time is about 1 week.


    To which countries can I have my order delivered?

Inox System delivers to all European countries and also to the countries shown on the map below: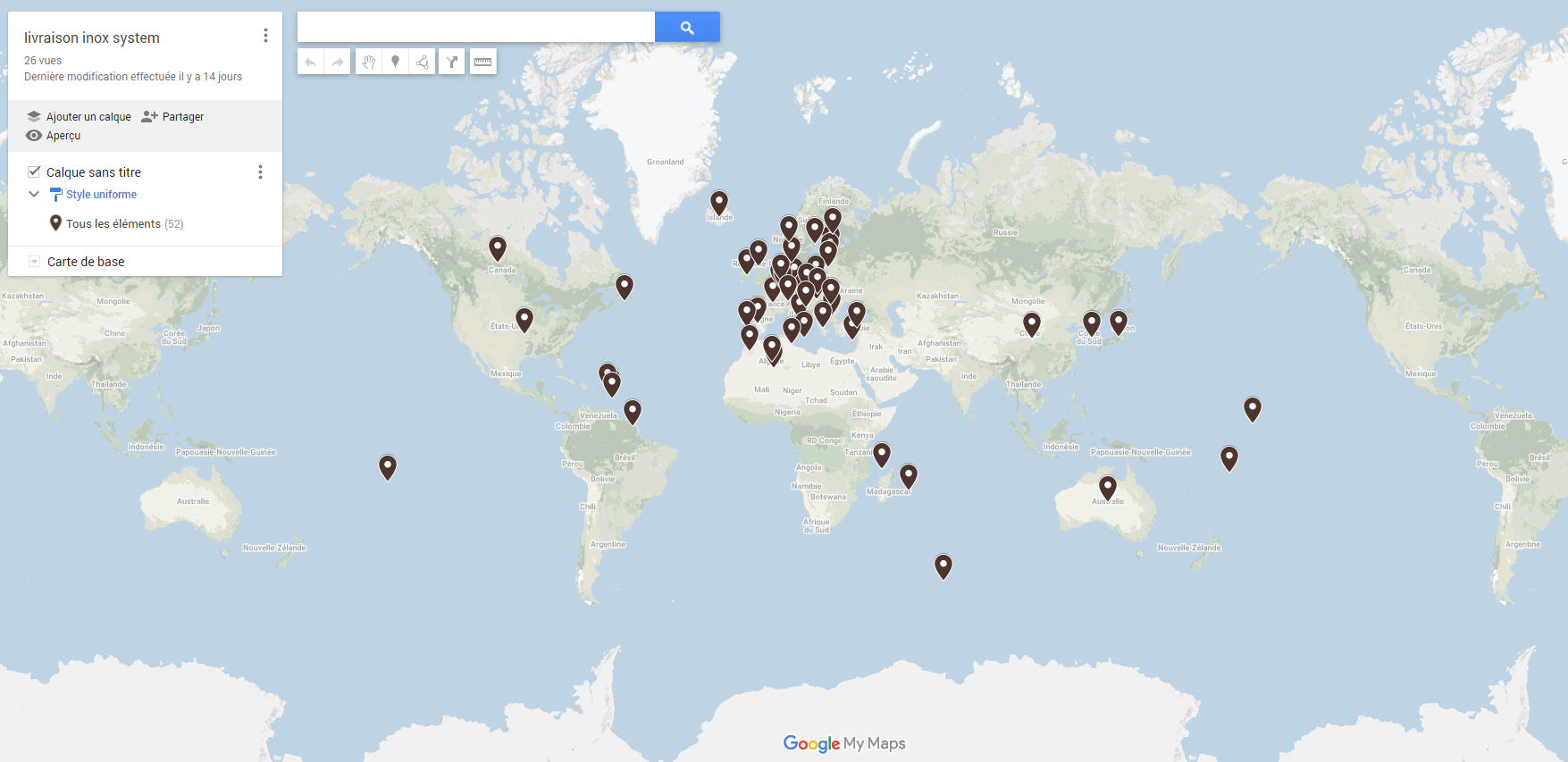 For all orders outside Europe, please contact us for a good estimate of the delivery costs

delivery inox system


    The products do not suit me, what are the conditions of refund?

In any case, all products purchased directly on the Inox System website can be reimbursed within 14 days of receipt of the product.

Please note that after agreement from the company, product returns are made at your expense.


    How long does it take to complete a stainless steel netting project?

The production of stainless steel nets takes about 4 to 5 weeks (standard lead time). Allow a few extra days for shipping.


    What payment methods do you accept?

On site: payment by credit card (Visa, Mastercard...)

Off-site: selected cheques and bank transfer

It is also possible to make a payment by credit card remotely, select payment by transfer and call us at the following number: 01 39 19 11 00.


    How do I get my invoice once I have received my order?

If you are a professional, the invoice will be sent to you electronically at the end of the month.

If you are a private individual, the invoice will be inside your parcel.




Technical questions
    How do I choose my cable?

The choice of cable depends on the project, because the project influences the choice of rigidity: flexible, extra flexible, compact. The breaking and fatigue load must also be taken into account in order to choose the right diameter.

There are several questions to ask yourself in order to make the best choice:

    How flexible do I need the rope to be?

    Do I have a dimensional requirement (hole in a post, etc.)?

    I have an aesthetic requirement?

    I have a tight budget to respect?

You will find all the answers to these questions, as well as mounting ideas, in the following technical information page...

How to choose your Cable? - SARL INOX SYSTEM
    Which range to choose according to my project?

Depending on the nature of your project, the range used will not be the same.


For any nautical project or any project requiring high resistance, you will have to choose the Marine range. A project that is not intended for nautical use (sailing boat, etc.) but is in a marine environment, requires the use of this range, in order to avoid possible corrosion.


The Industry range is intended for industrial projects, construction projects, railings or any other project that is not in a marine environment and is therefore not exposed to the risk of corrosion.


The Design range concerns all interior architecture and decoration projects. It is recommended for assemblies where aesthetics take precedence over resistance (low breaking load). As a result, thanks to the optimisation of their dimensions, the prices are lower.
    How do I choose my thread?

The choice of thread diameter will allow you to determine the breaking load of a rigging screw.

If your project is in the nautical field, we recommend the "English UNF thread" which will offer you better resistance and more precise adjustment.

On the other hand, if your project is related to industry and construction, the "metric (ISO) thread", which is the most widely used thread, will be the most suitable.
Do I have the possibility to configure my cable to measure?

Yes, our cable configurator is the most complete tool on the French and European market. It will allow you to realize most of your projects in only four steps!

We have created this tool in order to facilitate your orders and to allow you to see in real time the finished cable, composed by you.

Simply choose the rope you need (length, type)

Then, from a selection of turnbuckles and simple terminations, you can make a cable with one or two ends depending on your project.

Once you have chosen the part(s), you will get a summary of your cable composition with a visual, you can validate or start the operation again if it does not suit you.

Cable configurator - SARL INOX SYSTEM
How do I lay my stainless steel net?

If you wish to carry out a small project and thus lay your stainless steel net yourself, several installation instructions have been made available to provide you with all the information you need during installation.

You can watch our video on our Youtube channel right here:

Installation of stainless steel netting / stainless steel mesh.

or on our website via the following link:

How to install a stainless steel net? - SARL INOX SYSTEM

On the other hand, if your project is substantial, the intervention of a fitter or training for ½ - 1 day can be proposed (services invoiced on estimate).
How to install manual terminations?

Manual terminations are used when you are not sure of the exact dimension on the plan. They allow the length of a crimped cable to be adjusted without the need for a crimper or other tools.

Instructions for use are available below to help with assembly:

Manual terminations and turnbuckles - SARL INOX SYSTEM
How do I repair my shroud?

To repair a shroud, we recommend the use of the Norseman range.

The Norseman type termination is designed for single core (1x19) as well as Compact or Dyform construction ropes (1x19). Well known to boaters, the range is characterised by a conical olive to be placed inside the stainless steel cable strands for better fixation.

You can find the assembly instructions on our data sheet below:

How to repair your shroud? Norseman range - SARL INOX SYSTEM