INDUSTRY LINE
Complementary range of 316 grade stainless steel products either for swaged or swageless use.
From 20 to 37% savings
This new range of INOX SYSTEM products has mainly been developed for the construction industry, architectural applications, metalworkers and locksmiths, and industry in the broadest sense.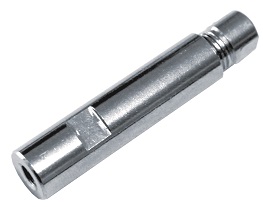 "swageless" cable terminal.
1)
Principle:
Focusing on the best-selling products, we have redesigned parts with optimised, sometimes simplified, shapes to redefine the means of production.
However, the space occupation remains the same as that of MARINE products, to make sure the two lines are interchangeable.
Destination:
Customers in the building, public works, industrial equipment, decoration and architecture sectors., ..
2)
Advantages:
The cost price of each worked reference has significantly dropped thanks to:
- Large volume purchasing / mass production.
- Production process adapted to mass production
- Relaxed manufacturing tolerances
- Reduced production checks (we trust the production tool)
- Aisi316 stainless steel guarantee
3)
Disadvantages:
- A limited choice of references (mainly for Ø 3 / 4 / 5 and 6 cables)
- The part lustring is less extreme than for the MARINE line.
- Imperfect parts are possible (fewer checks), but we always provide after-sales service.
- Mechanical strength: for calculations, use 85% of the MARINE line values, even if the strength is in fact equivalent.
(this is due to the extended dimensional tolerances)
if you can't find what you want, ask us: this line is "adaptable"!
4)
Ordering

:

To keep things simple, the numbering of these INDUSTRY parts is the same

5-digit numbering as for MARINE parts, but prefixed by ''XIS_''

For example:

MARINE line, threaded terminal for Ø4 cable = IS72046

INDUSTRY line, threaded terminal for Ø4 cable = XIS_72046